NoiseGuard Moto© an individually moulded earpiece (left & right), incorporating pro-musicians audio speakers and strain relief wiring in a one piece custom racing headset.  Now in thin wiring.
Designed in collaboration with race car drivers and motorcycle riders.
Our slim fit, laboratory manufactured, soft silicone moulds ensure optimal comfort and background noise reduction while the thick, coiled robust wiring and pro-audio drivers provide ultimate sound production for the most secure, reliable and crystal clear motorcycle or racing pit communications on the market.
The pro speaker drivers on the Moto are actually the same professional audio speakers as seen by musicians' on stage, we have adapted the highest quality components to be incorporated into a custom motorcycle headset and wiring.
Embedding the pro drivers into the highest quality, medical grade, soft hypo-allergenic silicone enables us to provide excellent background noise reduction but still allow those important sounds such as, sirens or engine revs to be heard.
Worn and Recommended by V8 Supercar Drivers
NoiseGuard Moto Features:
Custom moulded using an individual Left and Right ear impression (a painless procedure)

Highest quality Gold plated terminations available in

3.5mm (1/8″) Stereo Male

*Slimline 3.5mm (1/8″) Stereo Male (now available for motorcycle intercom systems, in ear monitor applications)

3.5mm (1/8″) Mono Male

RCA Male

Prevent hearing loss from constant excessive wind or engine/exhaust noise

Class 5, up to 34dB noise reduction earplug

Variable noise reduction using an optional non-linear filter

NEW thin,  strain relief wiring for flexibility and rider/racer comfort

NO hollow tubing – conductive wiring throughout eliminates wind noise transfer and movement noises

Single (one speaker per ear) professional balanced armature audio drivers encased by moulds directly into ears for in-ear-monitor HiFi sound production

55cm headset audio extension provided (optional android cable extension with mic + volume controls)

ear moulds available in a wide range of colours with client initials embedded

detachable at the "y" for helmet motorcycle/pit comms and desired length

canal cap for driver wax protection, effortless maintenance and aural hygiene

Use with your current  Scala, Sena or various motorcycle bluetooth communication systems and remove speakers in your helmet

3 year mould integrity guarantee

Perfect for recreational uses such as plane/train travel – plug in your music device and enjoy professional audio free from background noise

Crystal clear high/mid tones with excellent base quality for entrance single driver monitor (see dual driver)

Fully compatible with multiple bluetooth streamers.
Custom fitted noise plug (up to 34 dB(A) attenuation, Class 5) music listening interface all built into one. Significantly reduce wind/road noise, whilst still being able to hear your surroundings and your favorite music in professional hi-fi.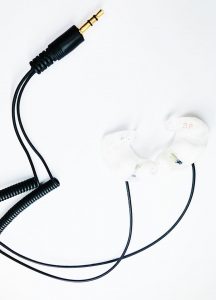 NOISE PLUG & MUSIC LISTENING INTERFACE IN ONE
This product has been designed through Hearlink/NoiseGuard in collaboration with professional motor cycle riders and race car drivers who have field tested our prototypes from the early stages of development.
NoiseGuard is committed to ensure that we get our product right.  As an audiological practice, established in Melbourne over 30 years ago our vast knowledge in custom moulds has taught us that the small adjustments and customisations lead to the ultimate comfort and functionality.
No hollow tubing. Our unique design uses high quality professional audio drivers fully incorporated into the actual mould, directly into your ears, which eliminates the wind noise being transferred through hollow tubing and also dramatically improves the audio quality due the drivers being set in the customised ear-mould, very much like the benefit when a sub-woofer is encased in a sealed box. This quality design ensures the most robust and motorcycle friendly/race option available on the market today, with a male jack making it compatible with all iPhones, iPods, MP3 players and mobile phones (with the standard 3.5mm female headphone jacks).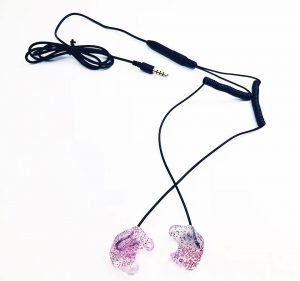 AUSTRALIAN MADE AND OWNED 
Life Span:  Greater than 5 years (differs for each individual)

Turnaround:  Approximately 2-4 weeks.

2 year wiring/driver warranty/3 year mould integrity warranty (not including changes due to individual ear growth)
Total Cost:
(COMPLETE CUSTOMISED L&R) = $435.00 AUD
Included in price: NoiseGuard Moto headset (left and right custom plugs with professional single, balanced armature audio drivers), NoiseGuard small & large zipped cases, instruction leaflet, cleaning/maintenance tools, 3 pairs of wax caps and complimentary express postage anywhere in Australia.