How to Order
Find your closest outlet for ear impressions.
If there are no distributors in your area, contact us and we will locate one for you.
Select your colour preference:
Please note that all colours will be mixed with clear (clear ear canal), to aid in the cleaning and maintenance of the ear moulds.
Above colour selection tool is as a guide only. You can select any colour or colour combination you'd like.
Our lab technicians will try their best to replicate your colour request – however we cannot guarantee a perfect match for specific colour requests.
*For three colours of more (per ear mould) there is an additional charge – $6.00 (per ear)
Send your Impressions to our postal address with your NoiseGuard Order Form & colour/product selection.
Postal address for ear impressions-
NoiseGuard
102/635 Gardeners Rd
MASCOT NSW 2020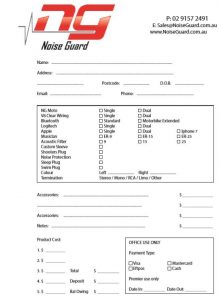 Once received we will contact you for a deposit. It is a 2-5 Week turn around time on your order and once complete we will express post it to the address provided.