NoiseGuard has a range of custom moulded ear plugs that are designed for industry applications;
including solid noise protection, filtered plugs and audio option's.

Do you work in high noise?
Employers are required to provide hearing protection to Employees when they are exposed to over 85 dB(A) for a period of 8 hours.

What are the benefits to opting for custom moulded hearing protection?

NoiseGuard custom plugs are designed to be worn for entire shifts, they are easy to clean, easier to use and cost effective when compared to universal foam plugs.
Workers, especially in dirty environments, such as: coal mines, oil rigs, metal industry etc are known to go through approx 2-5 pairs of disposable foam plugs in a single shift, which can add quite an expense to PPE, not to mention waste/workplace litter and of course foam plugs will never fit or feel as good as high quality custom fitted NoiseGuard earplugs.
They are effective and inexpensive, preventing noise damage to your hearing, whilst allowing you to still hear your surroundings in customized comfort.

Best of all they last for years not hours and are easy to maintain!

Fit:
Our noise plugs are easier to use.
Our custom noise plugs achieve a similar level of reduction when compared against foam plugs *that have been inserted correctly.
However, Foam plugs achieve the level of attenuation by constantly expanding within the ear (once inserted).
This expanding can cause the foam plug to work its way out of the ear canal over the shift and the employee risks unknowingly exposing their ears to excessive noise.
It can also be challenging for employees to insert foam plugs deep enough for them to be providing adequate protection.
Our noise plugs are manufactured in the highest grade medical silicone – there is no expanding and they are guaranteed to lock into place, using the natural landmarks of the ear.
You can feel and hear once the custom plugs have been inserted and are sealing in the ear. Once the insertion technique is initially established, our noise plugs are very easy to insert and the employee has better peace of mind knowing they are being protected to the level the plug offers.
We have maximum reduction noise plug options as well as filtering options to ensure the plugs our clients receive are suitable for their requirements.
Comfort:
Our custom noise plugs are made from hypo-allergenic soft silicone and are manufactured to the exact shape of the clients individual ear (anatomy), this makes them suitable for use over an entire shift without causing any discomfort.
Foam plugs can be uncomfortable for many clients, due to the shape of their canal and the constant expanding/pressure. As a result, many employees will simply not wear the hearing protection that is provided – opening up the possibility of over exposure and hearing loss.
Environment:
Our plugs last many years – reducing the environmental impact that single use, one size fits all ear protection has.
Foam plugs aren't always disposed of correctly, they are typically seen discarded around the grounds of factories, surrounding properties and commonly end up in water guttering and in turn waterways. PU earplugs never biodegrade, and once buried in landfills the polyurethane ultimately leaches into the ground water tables.
If you look at the average consumption of one employee who has 4 weeks of annual leave each year and has a lunch break every day – he/she would require 2x foam plugs a day for 5x days a week, 48x weeks per year. This equals to 480 foam plugs per employee per year entering landfill, if disposed of correctly.

Hygiene:
Our noise plugs are easy to clean.
To insert one size fits all foam plugs, the client has to roll the section of the plug that is then inserted into the ear. If the foam plug falls out or requires adjusting the employee is forced to touch the plug again. In many work environments this is unsanitary and can lead to ear infections.
Custom plugs can be inserted using solely the outer ear and face-plate section of the ear mould and they will not require adjusting once inserted.
As our custom noise plugs create a seal within the ear, it also prevents environmental derbies and water from entering the ear.
Once the employee has finished their shift they can simply wipe their plugs with an alcohol swab or wash under water and they are ready for use.
Cost:
Our custom hearing protection range has an average lifespan of 3-8 years (depending on the product selected).
When you compare the cost of foam plugs over the same period, you can see that our noise plugs end up being a significantly lower expense to a business.
We give our customers as much value for their money as possible by using only the highest quality materials, providing large warranties and guarantees, free maintenance services for all new orders and offer a free onsite service for group bookings.
NoiseGuard has a variety of options to suit every budget. Contact us for bulk discount information.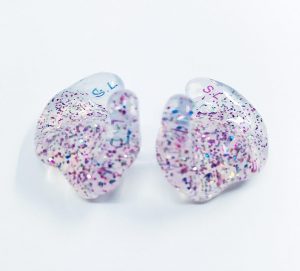 Filtered options in 9, 15 or 25dB(A) filters to allow variable attenuation and reduce blocked ear (occlusion) effect.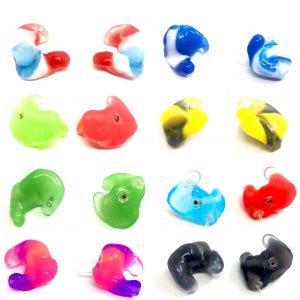 NoiseGuard custom headsets also available (custom fitted class 5 noise plug, with pro audio) used by V8 Supercars.  The perfect compliment for your radio communications.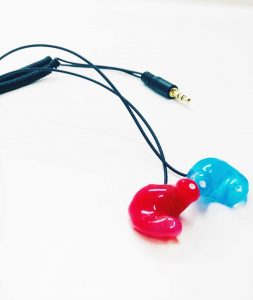 An impression of your ears is required in order to manufacture your custom moulded plugs.
Bulk discounts available – contact us for a quote.
Of course Hearing Protection is only one part of a successful approach to preventing hearing loss in the workplace. 
For further information on workplace Noise Assessment's and Hearing Testing Click here